Join Us for Fun District Events!
Everyone is Welcome!
DISTRICT 21 Events
Join Us on February 3, 2018 for a Snow Tubing Event: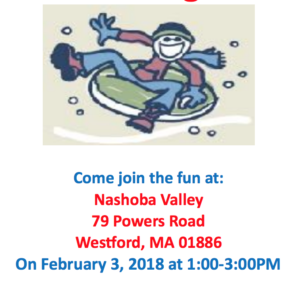 Come join the fun at:
Nashoba Valley
79 Powers Road
Westford, MA 01886
On February 3, 2018 at 1:00-3:00PM
VIEW FLYER
Additional Events and Announcements can be found on the current monthly bulletin at:
http://www.aaboston.org/monthly-bulletin.asp
Any questions on events or information found on the Monthly Bulletin, can be directed to the AA Central Service Office at 617-426-9444.